ULYSSES

Ulysses HISCALE Data Analysis Handbook
Appendix 2. User's Guide to LAN360
Tables A2-1 and A2-2 show the electron and ion channels and the WART channels available to be plotted with LAN360, and the energy ranges that they cover.
Table A2-1 Available LAN channels for LAN360
On the time series plot, electrons are plotted as "equivalent LEFS60" flux; protons are plotted as "equivalent LEMS120" flux.
* These energy range values from IDF.DAT version 1.13.
• For these proton channels, set foilfact =0.0, or the E1-4 channel values will be used.
Table A2-2 Available WART channels (XY plane only)

* These energy range values from IDF.DAT version 1.13.
a Plots including these channels are not yet implemented.
Table A2-3 shows (in a format similar to that of the LAN360 output) the detectors and sectors that are used in each panel. LEMS detector channels are in the left column, LEFS to the right. For the WART plots, the sectors are the same as the LEFS60 in the XY plane.
Table A2-3 Channels and sectors used for ion anisotropy plots
Spacecraft X-Z Plane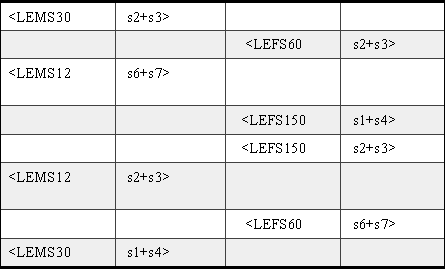 Spacecraft Y-Z Plane
Spacecraft X-Y Plane
Next: Appendix 2.3 Anisotropy Calculation
Return to Appendix 2 Main Table of Contents Page
Return to Ulysses HISCALE Data Analysis Handbook Table of Contents
QUICK FACTS
Manufacturer:
ESA provided the Ulysses spacecraft, NASA provided the power supply, and various others provided its instruments.


Mission End Date:
June 30, 2009


Destination:
The inner heliosphere of the sun away from the ecliptic plane


Orbit:
Elliptical orbit transversing the polar regions of the sun outside of the ecliptic plane