ULYSSES

Ulysses HISCALE Data Analysis Handbook
Appendix 4. SIS Common Data File (continued)
A4.5 CDF Data Record Format Specifications
The second file contains data from the HED experiment.
Each CDF File 2 record shall contain a header and a series of instrument data records as depicted in the instrument record structure as illustrated in Figure A4-4. This file is an ASCII tape with a maximum block size of 10000 bytes and a record size of 47 bytes.
Figure A4-4 Ulysses CDF File2 format
Header
Instrument Unique Data Records
Additional Data Records
Hedgecock (HED) Experiment
The HED CDF science record is designed to produce one set of parameters every 4.266 minutes at any telemetry bit rate. The logical structure is shown in Figure A4-4.
Processing Start/Stop: Refer to Section A4.5.2
Record Buildup: HED CDF record buildup will proceed following extraction of the appropriate HED bits and processing through the PI-provided algorithms. Section A4.5.2 defines the basic data extraction procedure.
Record Header: the header contains the initual time, final time, and the number of 47-byte time/vector entities in the file.
Data Block: The HED data block contains HED parameters calculated from the raw telemetry data. The order of word locations is given in Table A4-10.
Table A4-10 HED CDF data record format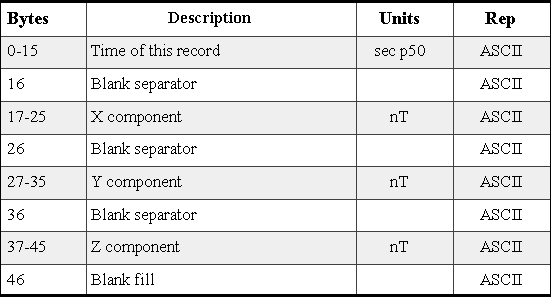 Notes:
1. Time, in real seconds from 1 January 1950 is expressed as xxxxxxxxxxxx.xxx
2. X, Y, and Z vector components are expressed as +xxx.xxxx
3. Counts are expressed as xxxxx
Next: A4.6 List of Acronyms and Abbreviations
Return to HISCALE List of Appendices
Return to Ulysses HISCALE Data Analysis Handbook Table of Contents
QUICK FACTS
Manufacturer:
ESA provided the Ulysses spacecraft, NASA provided the power supply, and various others provided its instruments.


Mission End Date:
June 30, 2009


Destination:
The inner heliosphere of the sun away from the ecliptic plane


Orbit:
Elliptical orbit transversing the polar regions of the sun outside of the ecliptic plane