ULYSSES

Ulysses HISCALE Data Analysis Handbook
For the deflected electrons of HISCALE, the detector is able to distinguish between four separate energy ranges labeled DE1 - DE4. Table A9-1 lists the current values used for these passbands.
Table A9-1 Deflected electron energy thresholds
Table A9-2 shows the resulting geometric factors obtained for the passbands of Table A9-1 for the Trial 10 B field.

Table A9-2 Geometric factors for deflected electrons, Trial 10 B field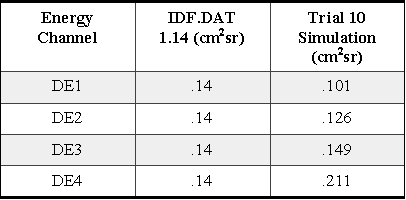 Return to HISCALE List of Appendices
Return to Ulysses HISCALE Data Analysis Handbook Table of Contents
QUICK FACTS
Manufacturer:
ESA provided the Ulysses spacecraft, NASA provided the power supply, and various others provided its instruments.


Mission End Date:
June 30, 2009


Destination:
The inner heliosphere of the sun away from the ecliptic plane


Orbit:
Elliptical orbit transversing the polar regions of the sun outside of the ecliptic plane