ULYSSES

Ulysses HISCALE Data Analysis Handbook
Chapter 4: Instrument Details
4.4 Passband Data and Calculated Responses
Table 4.11 Proton and electron passbands
PROTON RESPONSE
ELECTRON RESPONSE
Detector
Channel
Low Threshold
(MeV)
Hi Threshold
(MeV)
Low Threshold
(MeV)
Hi Threshold
(MeV)
LEFS60
El'(FP1')
0.362
0.375
0.042
0.065
E2'(FP2')
0.375
0.412
0.064
0.112
E3'(FP3')
0.412
0.460
0.112
0.178
E4(FP4')
0.460
0.546
0.178
0.290
FP5'
0.546
0.761
FP6'
0.761
1.223
FP7'
1.223
4.974
LEFS150
E1(FP1)
0.363
0.372
0.040
0.065
E2(FP2)
0.372
0.409
0.060
0.107
E3(FP3)
0.409
0.457
0.107
0.170
E4(FP4)
0.457
0.540
0.170
0.280
FP5
0.540
0.765
FP6
0.765
1.223
FP7
1.223
4.942
Table 4.12 LEFS detector passbands for selected ion species
Table 4.13 LEMS proton and ion passband summary
Notes:
1. Passband energies are in units of MeV/nucleon.
2. Passband energies in italics are extrapolated from those for neighboring species.
3. Passbands shown as <0.012 MeV/Nuc are not computer from range table here.
Table 4.14 WART passband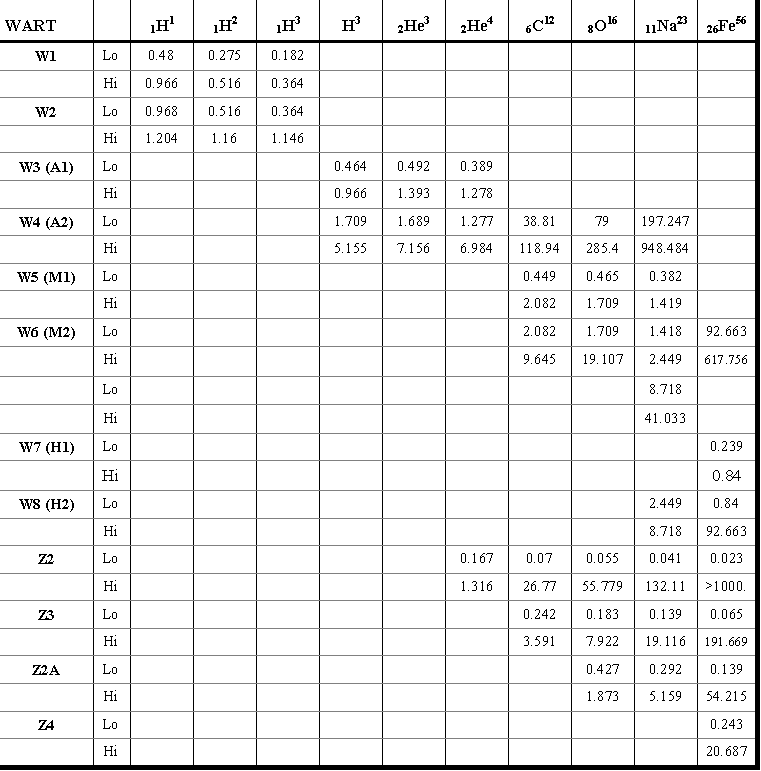 Return to Chapter 4 Table of Contents
Return to Ulysses HISCALE Data Analysis Handbook Table of Contents
QUICK FACTS
Manufacturer:
ESA provided the Ulysses spacecraft, NASA provided the power supply, and various others provided its instruments.


Mission End Date:
June 30, 2009


Destination:
The inner heliosphere of the sun away from the ecliptic plane


Orbit:
Elliptical orbit transversing the polar regions of the sun outside of the ecliptic plane